Welcome to Natural Bridges Puppets, home of the NB Puppets. We are a mobile multimedia puppet company that specializes in Commercials, Corporate Videos, and TV Productions. We are a company that is available for hire anywhere and anyplace!
"The Puppet's Court" which aired in Northeast Ohio on CBS WOIO 19 and MY WUAB 43 is still available to view online, so if you have not checked it out yet, please visit our YouTube page listed below to watch.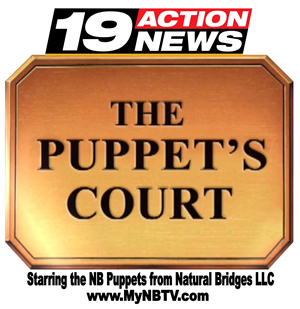 What is Natural Bridges Puppets? We are a professional mobile multimedia puppet company that can travel direct to our clients and customers, or any location of their choosing anywhere and anyplace. We specialize in Advertising Services (TV & Web-based commercials), Corporate Videos (Training videos and Corporate messages), and Television Productions, all of which feature the NB Puppets. So if you're looking for something to help promote your business products and services, want to make your training videos more interesting (and keep your employees awake), or want to add something special to your projects and events, then you need to hire the NB Puppets.